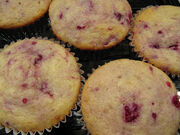 This is the recipe for lemon raspberry cupcakes.
Ingredients
Edit
For the filling
Edit
1/4 cup frozen raspberries, thawed
2 tablespoons beet puree
2 tablespoons confectioner's sugar
1 tablespoon margarine spread
For the batter
Edit
1 cup granulated sugar
1/2 cup nonfat milk
1/2 cup yellow squash puree
1/3 cup canola oil
2 large egg whites
2 tablespoons lemon juice
1 teaspoon pure lemon extract
2 cups all-purpose flour
2 tablespoons baking powder
1/4 cup salt
Directions
Edit
Credits: Jessica Seinfeld for Deceptively Delicious
Preheat the oven to 350 degrees Farenheit. Coat a 12-cup muffin tin with cooking spray or line with paper baking cups.
For the filling, puree the raspberries, beet puree, sugar and margarine in a blender or food processor; set aside.
For the batter, beat the sugar in a large bowl with the milk, yellow squash puree, oil, egg whites, lemon juice and lemon extract until smooth. Add the flour, baking powder, and salt, then mix until incorporated.
Using about half the batter, fill each muffin cup about 1/3 full. Dot each with the raspberry filling, the cover with the rest of the batter.
Bake until the tops of the cupcakes are lightly browned and spring back to the touch, 20 to 25 minutes. Turn the cupcakes out onto a rack to cool.