Welcome to the Cupcakes Wiki! This is a website where you can learn more about cupcakes and learn cupcake recipes! Each flavor has a page. If you would like a flavor page created, please message Austinandallycupcake38795  or an admin.

It is officially spring!Say bye to Winter and hello to new and unique Spring cupcakes!Here is a list of some recipes you should try!
Top Five Spring Cupcake Recipes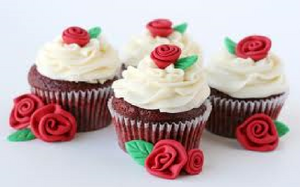 Ah,Red Velvet,a popular favorite for anyone all ages!This cupcake is a southern based recipe,in which the recipe allows the cupcake to turn red during the baking process,where the name "Red Velvet" came from.This Treat satisfies the taste buds and is a perfect treat for any occasion!


Check out more unique cupcake flavors here!






Vote in more cupcake polls here!


My favorite cupcakes that I would love in a special occasion 
Red Velvet
Chocolate 
Strawberry
Yellow
Vanilla
Funfetti
Marble
Cookies and Cream
Hello! I'm have a noticed why I tell you all I ask you? Tell me your answers like Q&A and others. Ok I'm done to tell you bye!!!
See more >